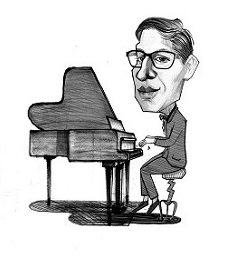 Sander Vermeulen was born in Amsterdam on 3 September 1980, but within a few years his family moved to Nijmegen where he lived for 18 years.
In 1996, he was accepted at the Utrecht School of the Arts, where he studied classical composition under Marc van Vught and Henk Alkema. Sander graduated in 2001 with a perfomance of his Concert for piano and strings, among other pieces. During and after his studies in Utrecht several works were performed and recorded.
After graduation and working for different companies for a few years, Sander decided to make a career change and started studying Law at the University of Nijmegen, where he got his Masters degree in 2008. In the evenings and weekend he taught musical theory and composition at the Muziekschool Arnhem.
Currently, Sander Vermeulen is working as a litigation services manager for Darts-ip, an intellectual property case law analytics company which is part of Clarivate. He lives in Arnhem with his family. In the sparse moments between a busy family life and a demanding working life, he still finds time to compose.
In 2018, he started the publishing company Edition a Piacere with Herman Meijer, with the aim of promoting unique but forgotten classical music. Activities of the publishing company are currently suspended, but a small collection of rare music is still available for purchase.
A second project was started in 2023, which is about the app Classical Notes, containing anecdotes on classical composers, a musical terms dictionary, a listing of musical forms with explanations and a composers calender among other things. New information is added on a regular basis. The app is available in English and Dutch.